Habitable Buildings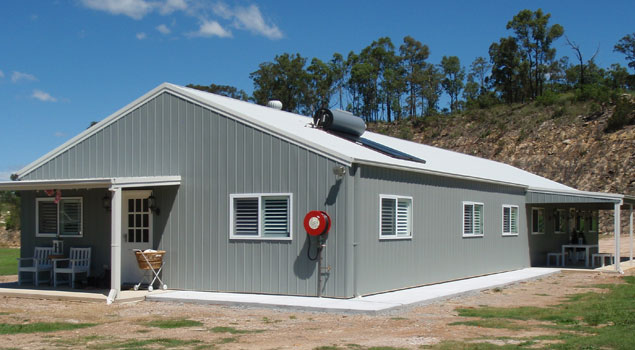 Habitable sheds have really taken off over the last few years with lots of people considering them for temporary and permanent accommodation. They are an economical alternative offering a modern design supplied at a fraction of the cost of traditional timber framed brick clad buildings. The range and scope for habitable shed designs is as endless as their ultimate useful purpose, therefore a high degree of care and attention is required when it comes to planning and building them, with many important factors to be taken into account.
We offer Class 1 and Cyclonic designed buildings to ensure that you get the safest steel structure possible. Our habitable sheds contain extra reinforcing and are engineered to the highest levels compared to other sheds due to the importance of safety to the people residing in them.
The most popular design to convert to a Class 1 dwelling is the American Barn. These barns are modern looking and can have the maximum space inside, without compromising the overall look. The American Barn is a great design to use if you require a mezzanine floor, allowing you to make use of a second level.
With the rise in popularity of the Granny Flat these habitable structures can be designed to suit the maximum floor space ratios and boundary setbacks required by the planning controls. See how Sydney Sheds and Garages can assist you with realising a Granny Flat.
It's important to bear in mind that these structures usually require formal planning permission from your local shire/council. Furthermore, you may be required to choose certain colours that the local planning authorities favour to be used in the area. It's always best to check before proceeding to the manufacturing stage.
We will organise your dream home from the ground up. We have a team of concreters, carpenters, plumbers and electricians all at hand to make your dream a reality. They can sort out all the Earthworks, Planning Permits, Concreting and Construction, Plastering, Painting, and Electrical depending upon the location.
From a great room out the back to store the teenager away to an affordable beach retreat, there are countless options available to you in how you choose to design your structure. Just send us a sketch and we'll design it to your needs!